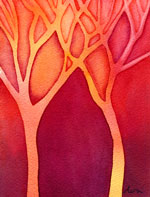 What is negative painting? It doesn't mean painting when you're in a bad mood...(sorry, I know that's lame but couldn't help myself!)
It means to paint around the subject by focusing on the non-subject, or background, to let the subject stand out. Sort of like a stencil, but not really.
OK, this is more difficult for me to explain than I thought it would be so I will just show you! ...continue reading "A Negative Painting Watercolor Project"